EXHIBITIONS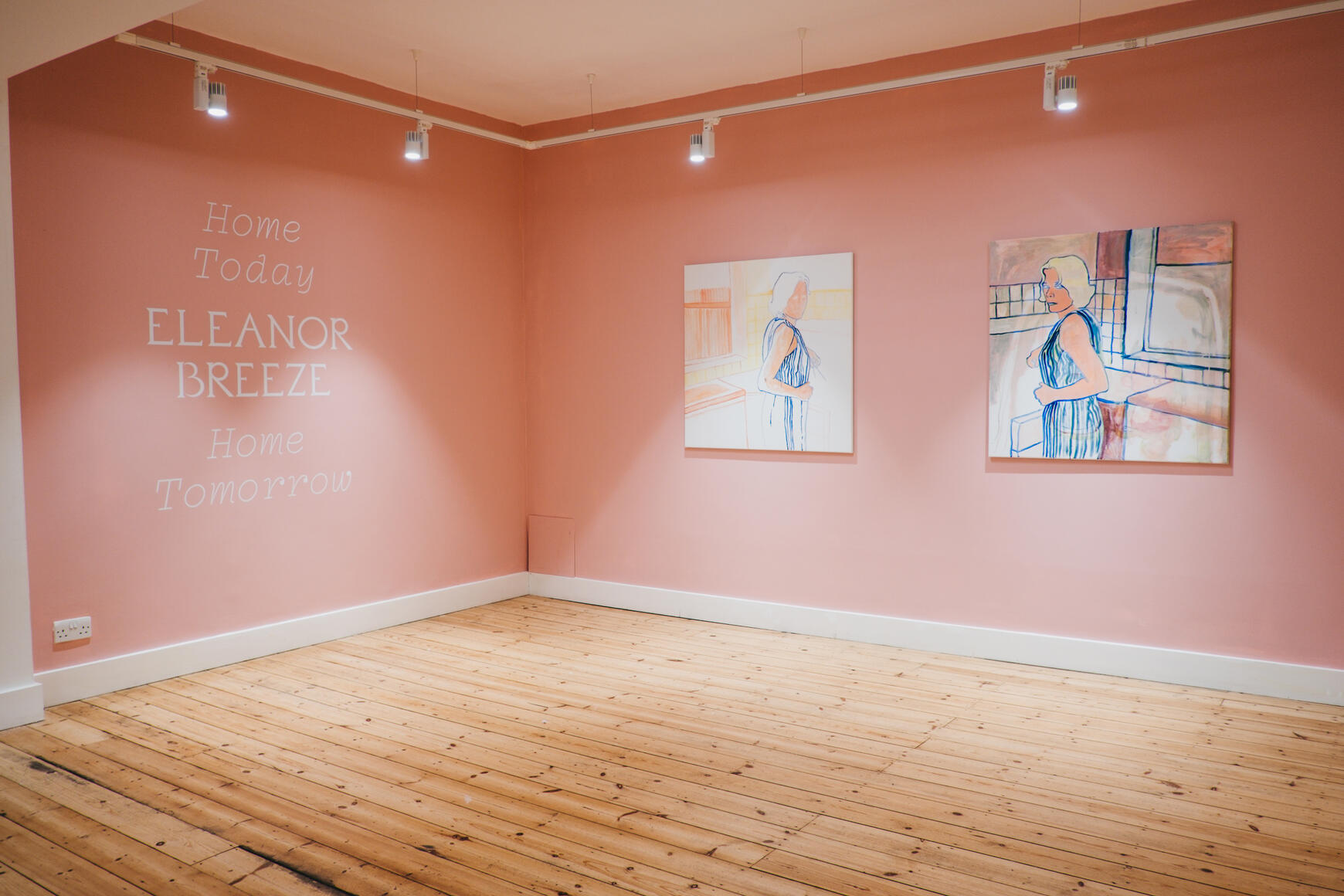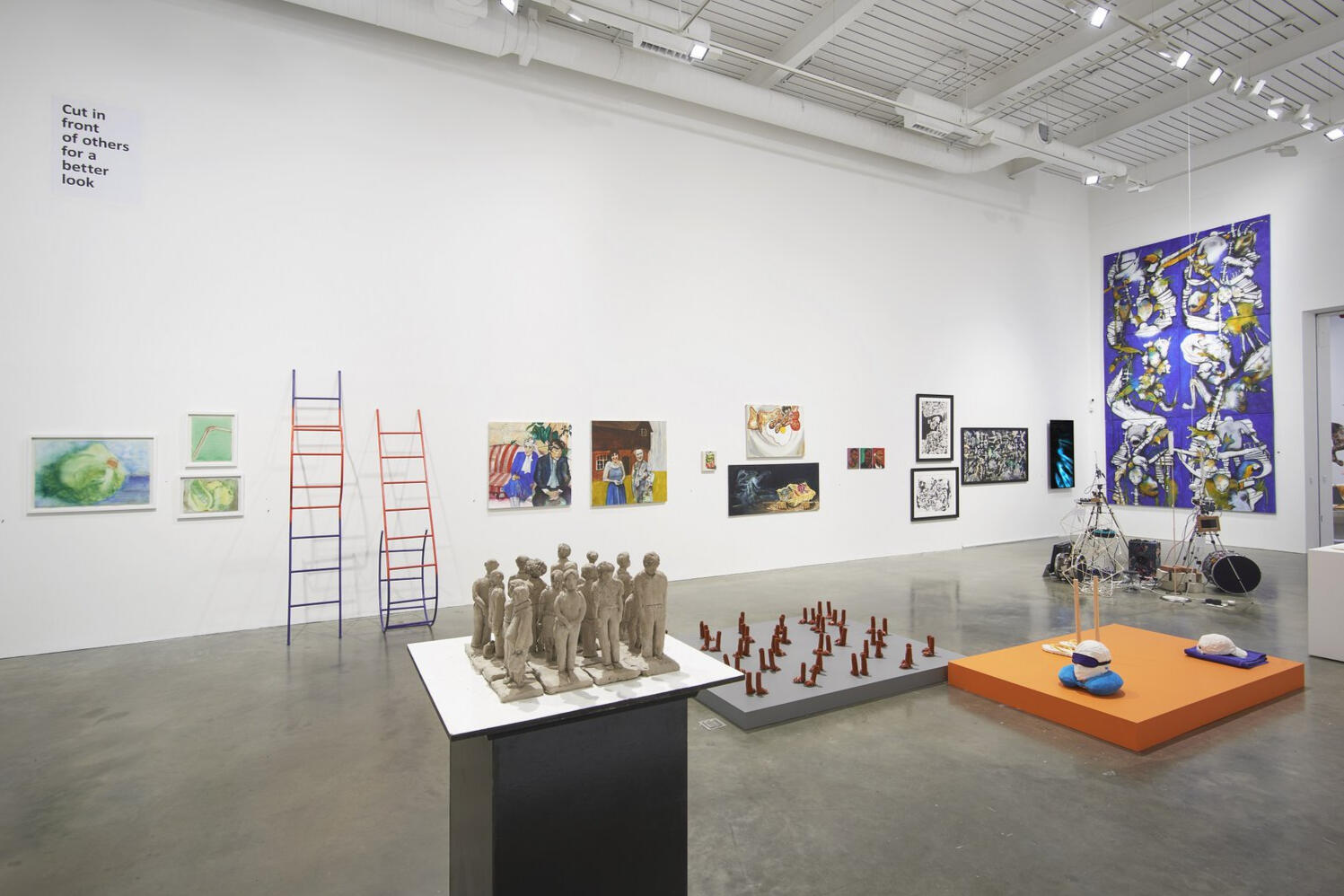 Home Today, Home Tomorrow, Broadway Gallery, Letchworth, 2021
MK Calling, MK Gallery, Milton Keynes, 2020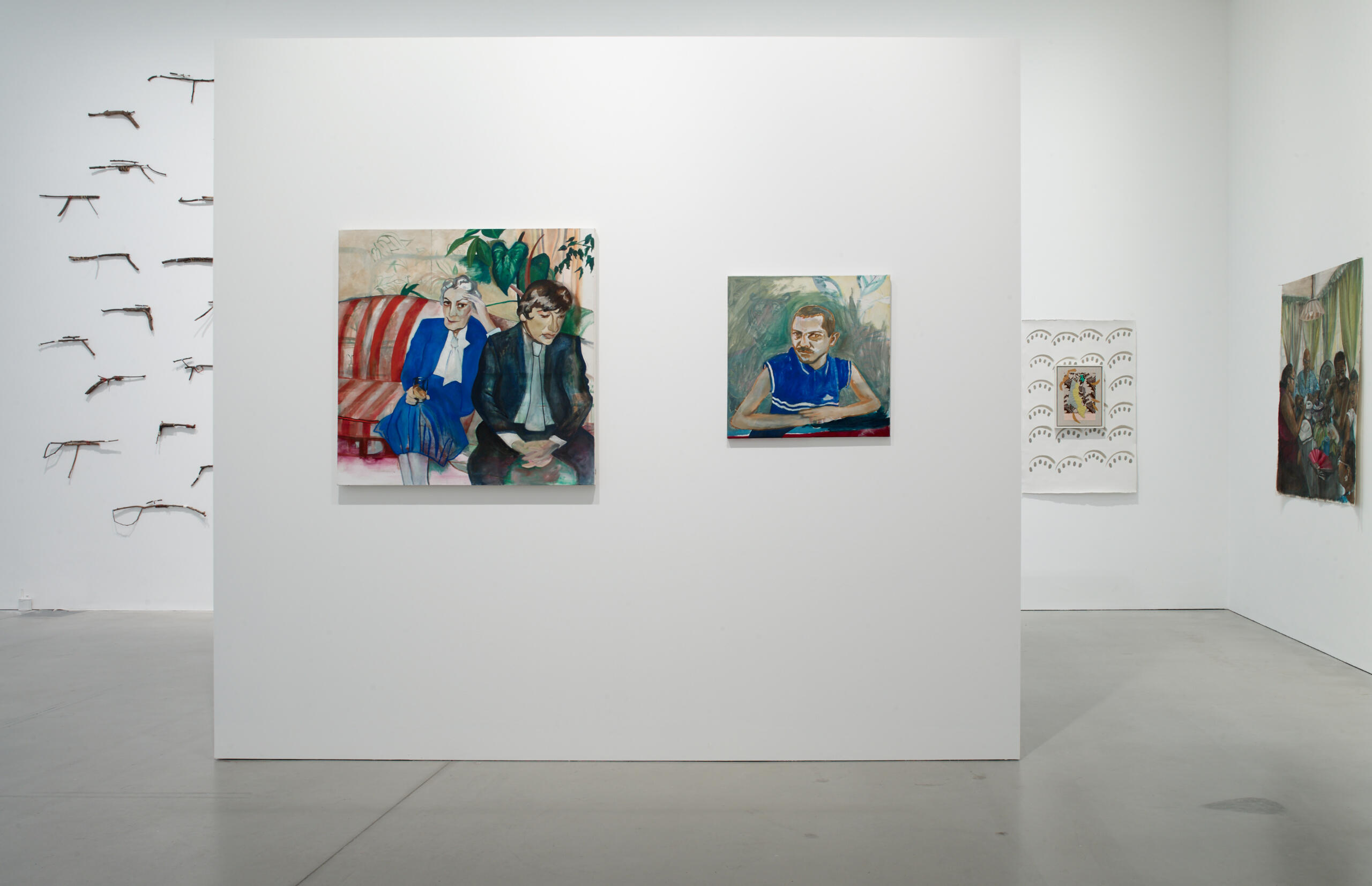 The Cambridge Show, Kettle's Yard, Cambridge, 2019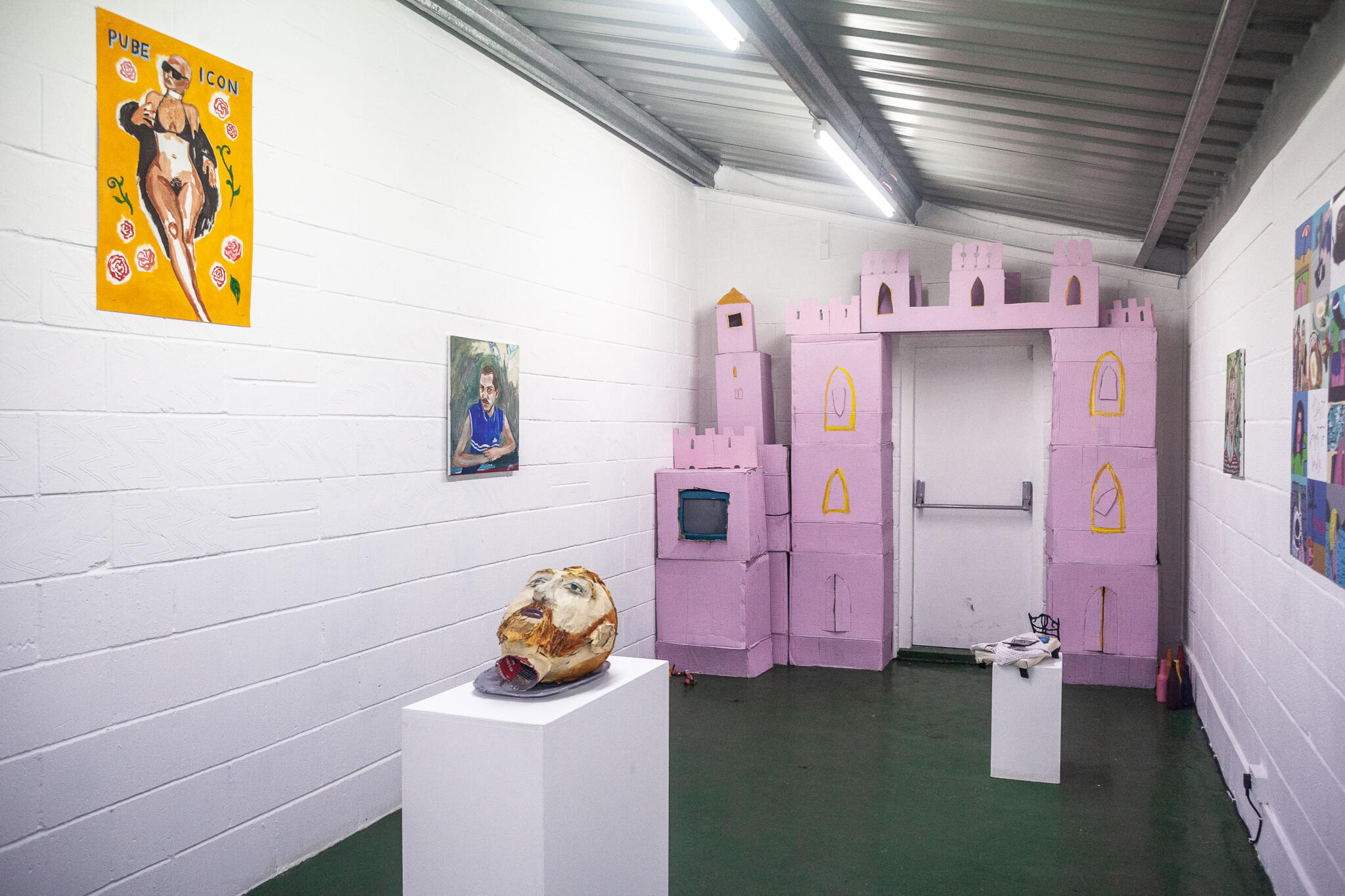 Motion Sickness, STOCK Gallery, Manchester, 2019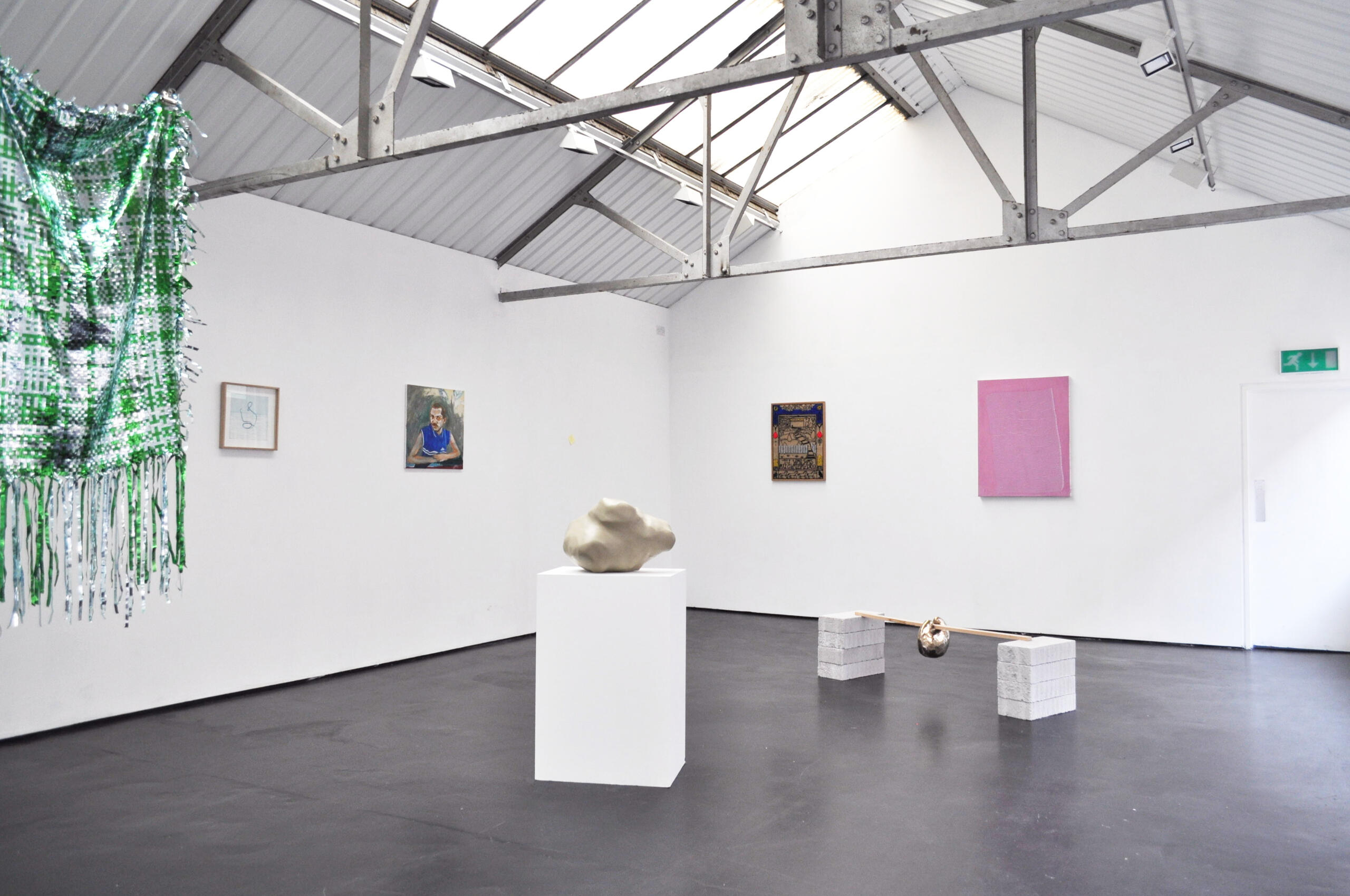 Members Show, Bloc Projects, Sheffield, 2018
Bloomberg New Contemporaries, Block 336 Gallery, London, 2018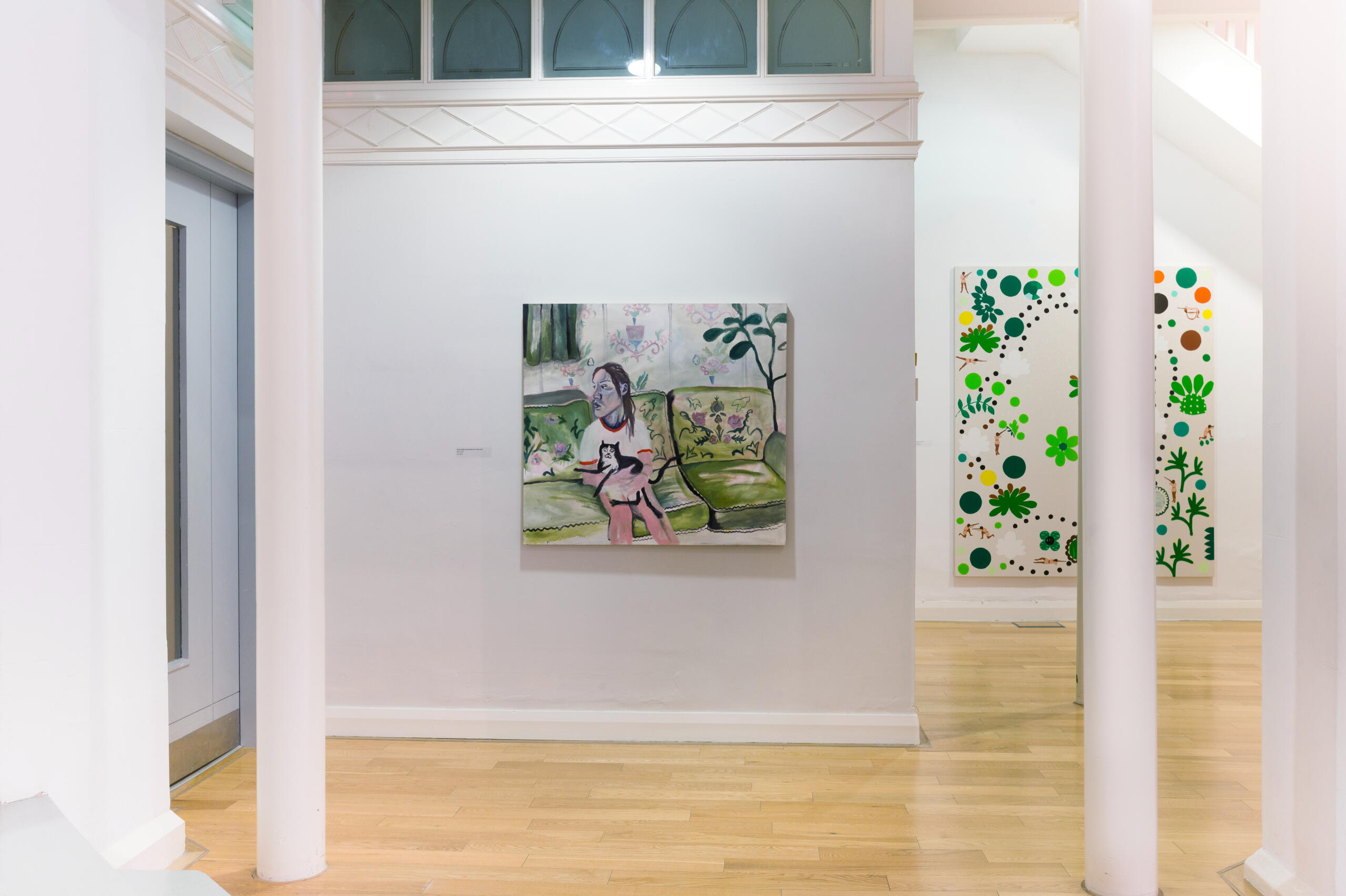 The Marmite Prize for Painting V, Highlanes Gallery, Drogheda, 2016
WEDDINGS AND FUNERALS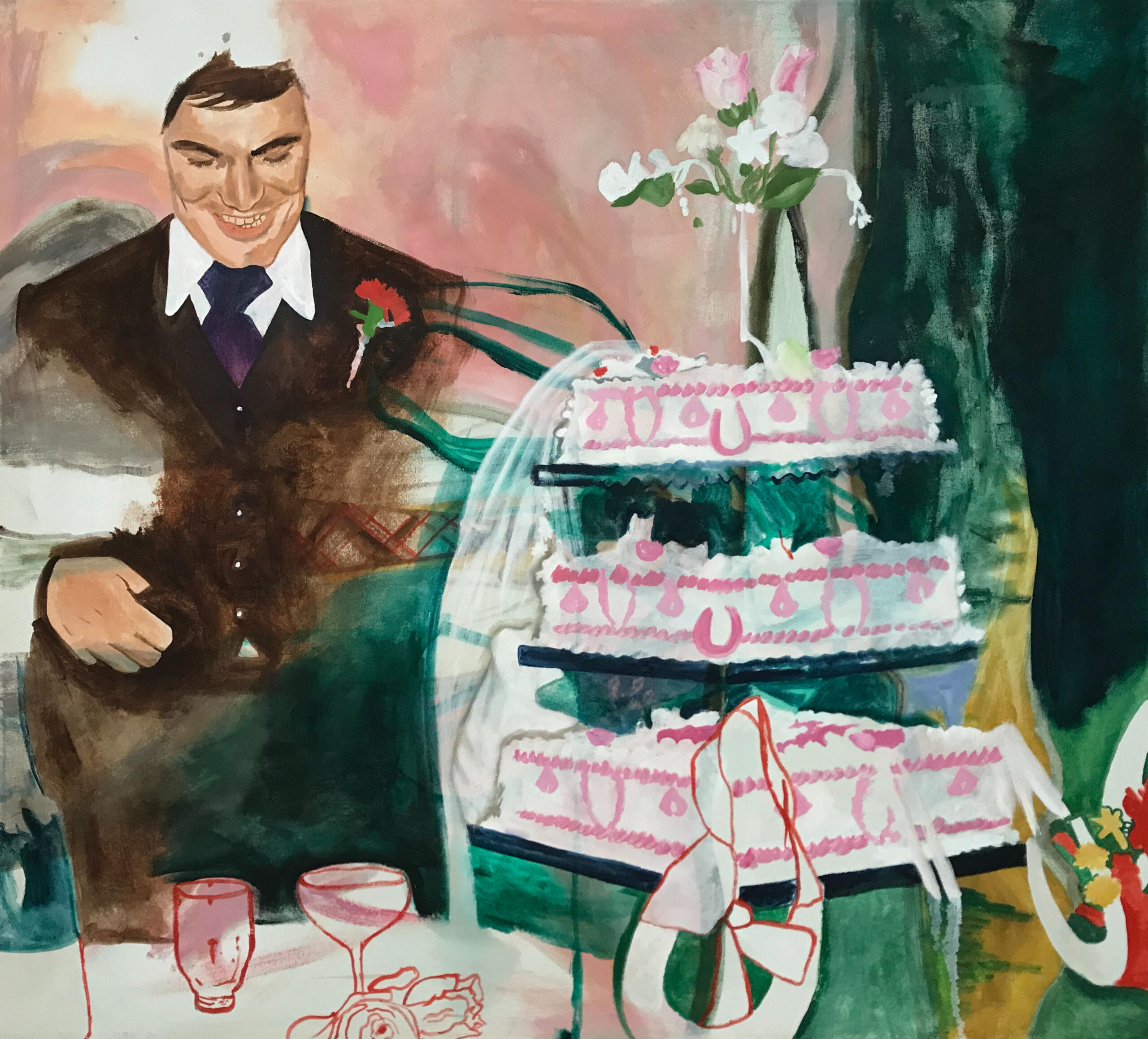 Wedding Cake
2022
Oil on canvas
97 x 87 cm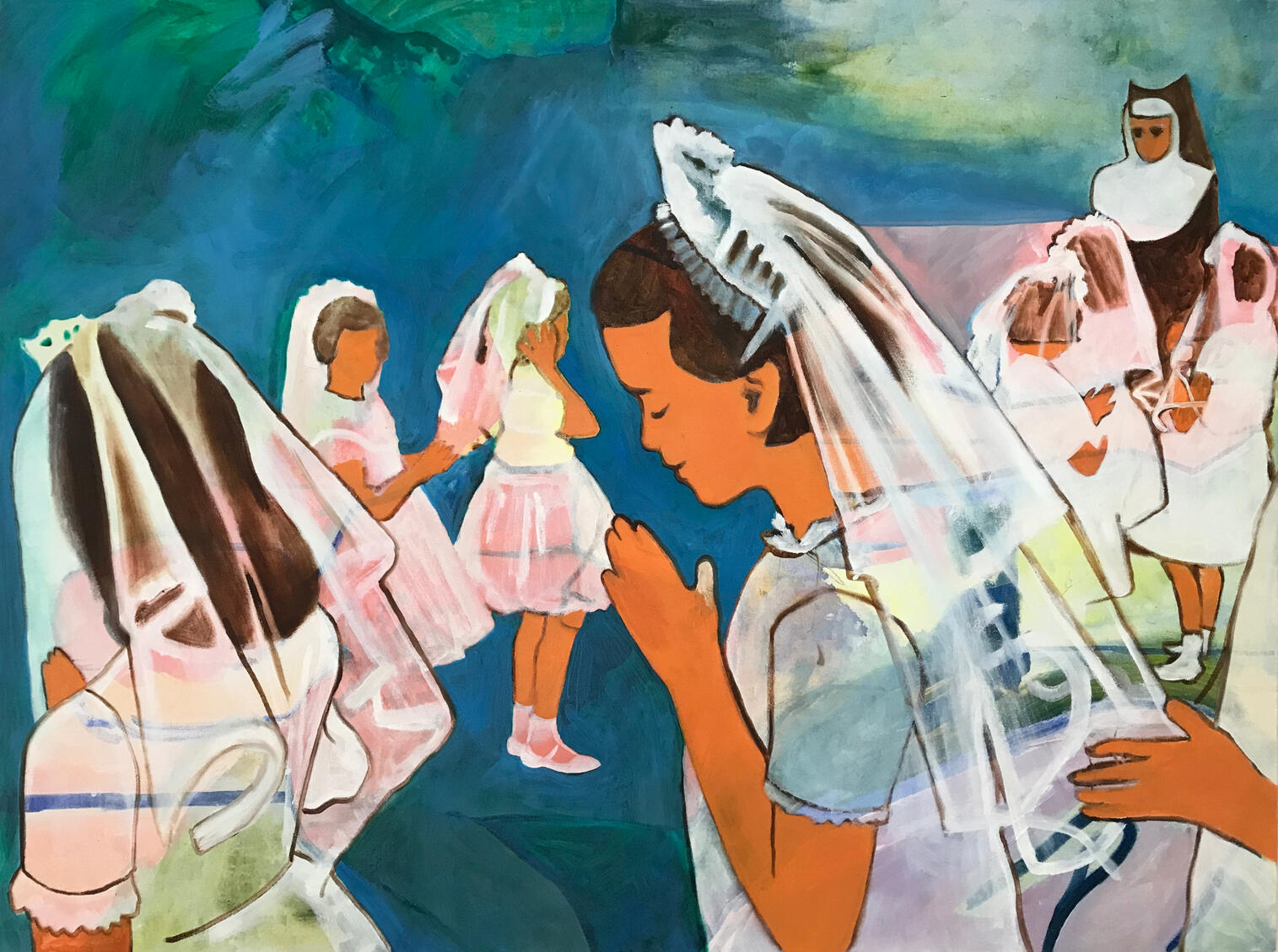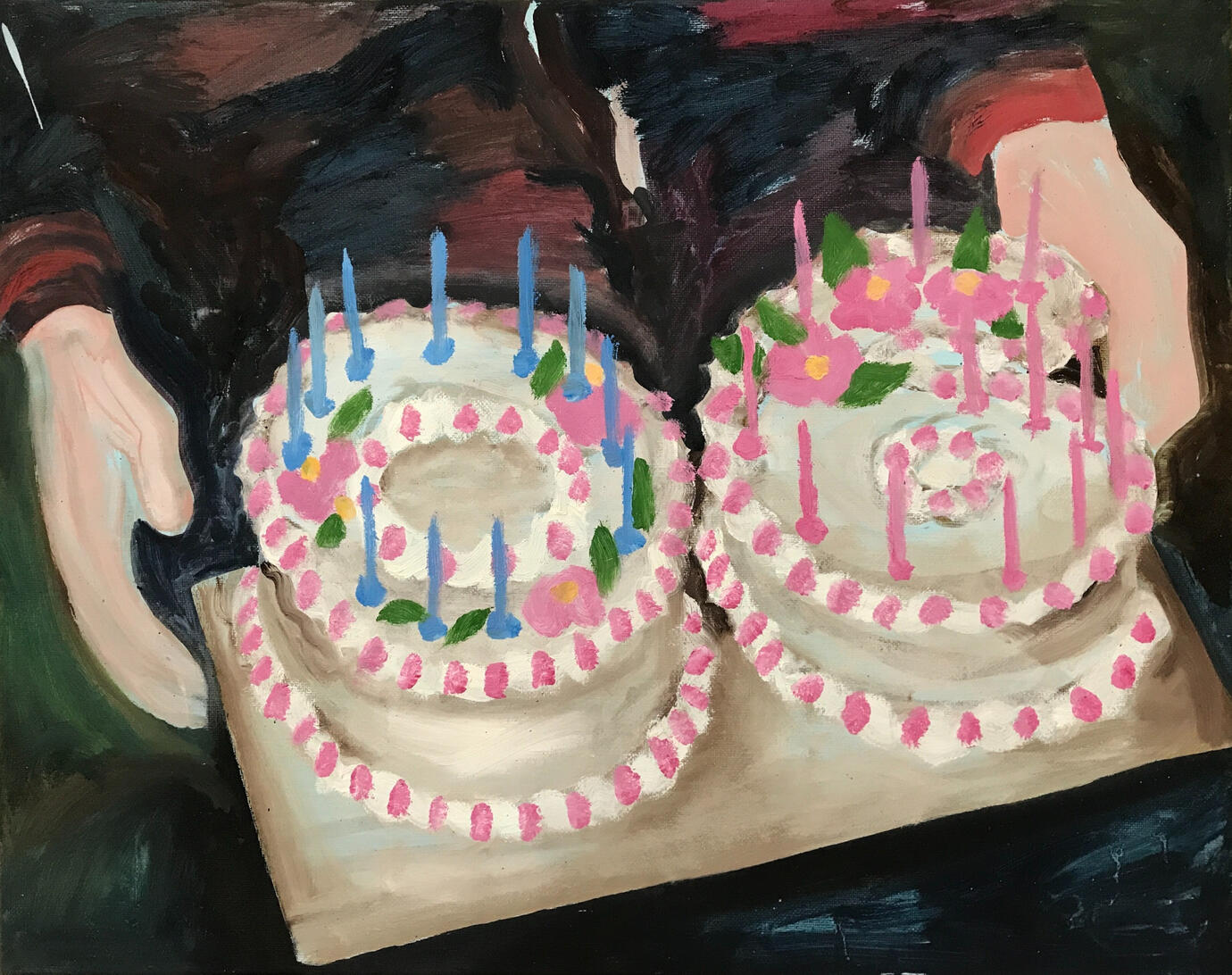 First Communion
2022
Oil on canvas
102 x 76 cm
Mrs Mac is 90
2020
Oil on canvas
50 x 40 cm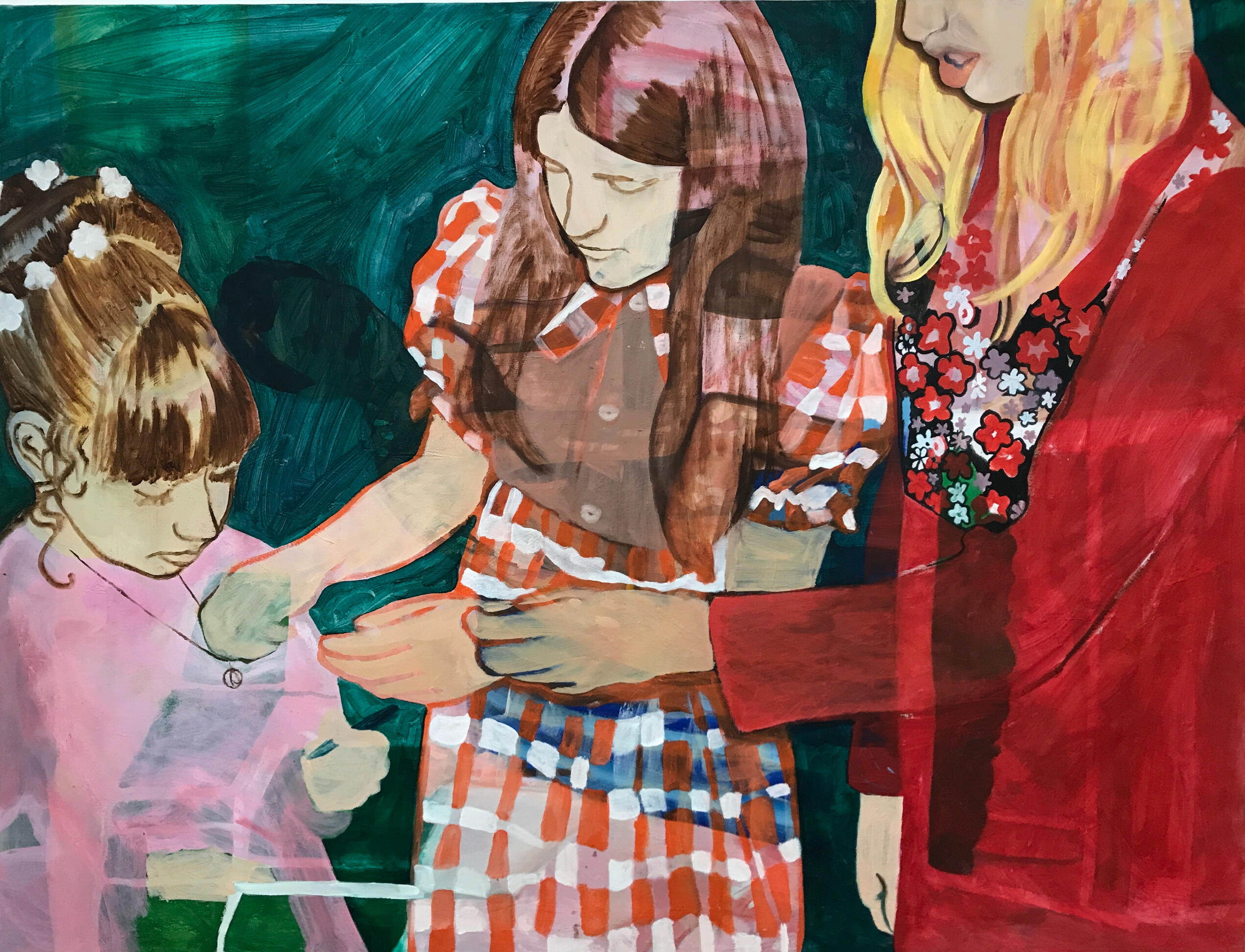 Sister
2022
Oil on canvas
115 x 88 cm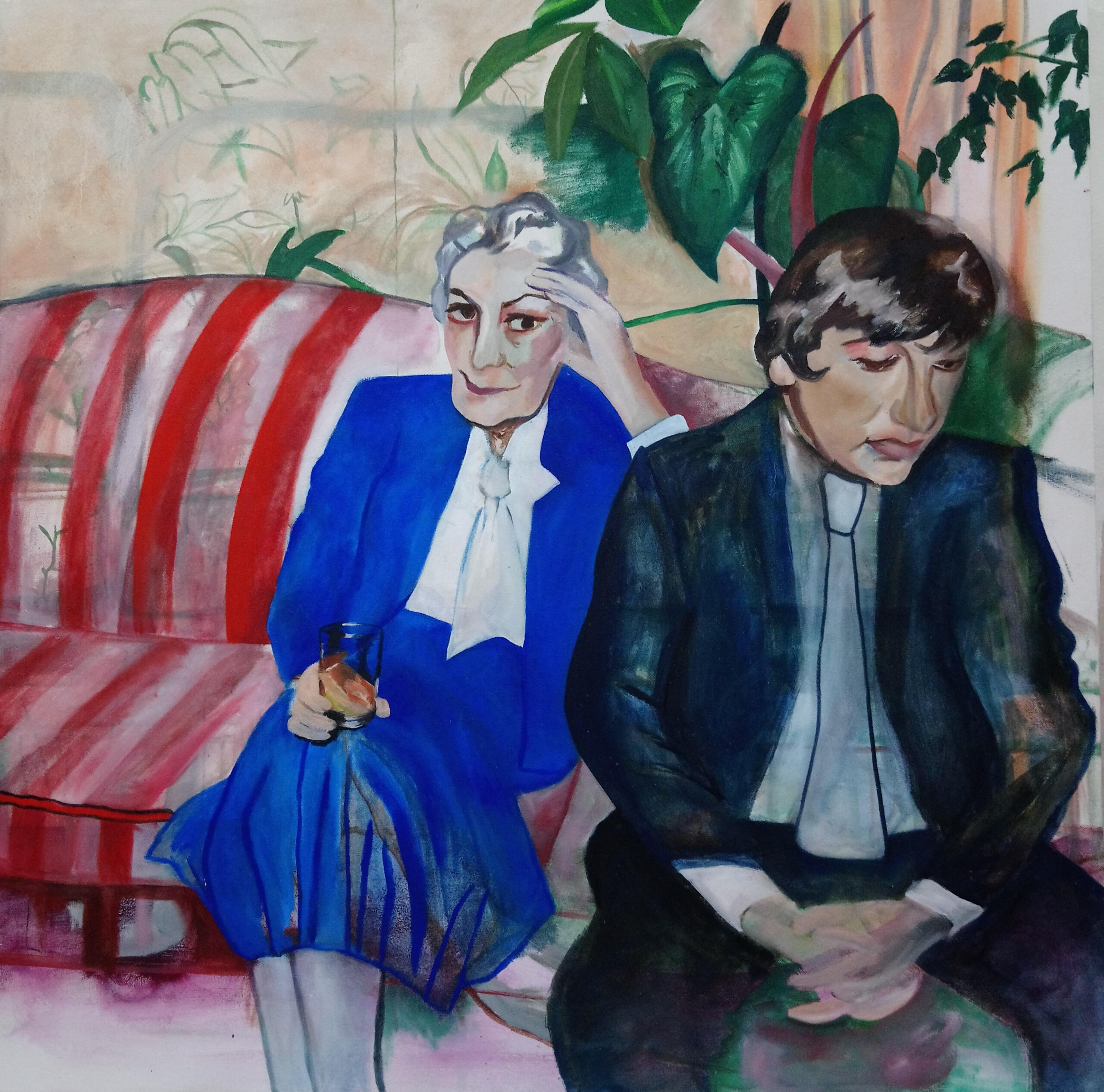 Why do we only meet at weddings and funerals?
2018
Oil on canvas
95 x 95 cm
TRANSPARENCIES
Untitled
2022
Oil on canvas
40 x 50 cm
Penny at Heart's Delight
2020
Oil on canvas
99 x 111 cm
Lilla's Dog
2020
Oil on canvas
66 x 77 cm
Irish Twins
2020
Oil on canvas
93 x 93 cm
PROJECTS
Motion Sickness Project Space
Motion Sickness Project Space is a contemporary art space situated in the Lion Yard Shopping Centre in Cambridge. The space was launched in 2019 with the aim of exhibiting and supporting emerging artists from all over the UK, particularly those who are marginalised within the art world.
Motion Sickness
Formed by Denise Kehoe, Eleanor Breeze and Arabella Hilfiker, Motion Sickness is a collaborative examination of their position as products of millennial ephemera. Motion sickness, by definition, is caused by a disparity between perceptual movement and sense of movement. This disorientation is mirrored by Kehoe, Breeze and Hilfiker's status in life in contrast to where society dictates they should be. Thus, the collective aim to explore and satirise society's view of 'millennialhood'. As well as making work together, the collective also founded Motion Sickness Project Space.
ABOUT
Eleanor Breeze's paintings explore social traditions that she finds in family photo albums. Weddings, christenings and funerals often feature in her work, along with the associated British food such as celebration cakes, tea and buffets. Layered imagery hints at a narrative but ultimately, the paintings remain ambiguous, making reference to something lost or just out of reach.The use of personal photos, some of which belong to the artist's own family, and some of which are found, adds a layer of uncertainty to the work. As the audience, we are invited to participate in the ceremony, but we don't know if the invitation is Breeze's to give.
Solo Exhibitions
2021 Home Today, Home Tomorrow, Broadway Gallery, LetchworthSelected Group Exhibitions
2020 MK Calling, MK Gallery, Milton Keynes
2019 The Cambridge Show, Kettle's Yard, Cambridge
2019 Motion Sickness & Friends, Motion Sickness Project Space, Cambridge
2019 Motion Sickness, STOCK Gallery, Manchester
2018 Open-Ended Questioning, Deptford X Fringe
2018 Bloc Projects Members' Show 2018, Bloc Projects, Sheffield
2017 Emergency, Aspex Gallery, Portsmouth
2017 Paper Cuts, Tripp Gallery, London
2017 Art on a Postcard, Unit London, London
2017 Bloomberg New Contemporaries, BALTIC 39, Newcastle, followed by Block 336 Gallery, London
2016 The Marmite Prize for Painting V, Block 336 Gallery, London, followed by Highlanes Gallery, Drogheda
2016 Whithurst Park Fair, Whithurst Park, SussexResidencies
2021 The Letchworth Residency, Broadway Gallery, LetchworthTalks
2022 Together Culture: Dinner of Ideas, Cambridge Junction, Cambridge
2020 Meet Critique, Broadway Gallery, Letchworth
2020 Infrastructure and resources for supporting and enabling creative careers, Cambridge Art Network Conference
2019 Suck a Lozenge: New Flavours for the Cambridge Art Scene, Fine Art Research Unit, Anglia Ruskin University
2018 Cambridge School of Art Springboard event speaker
CONTACT
elliebreeze@hotmail.co.uk